ZoIPer for Android
From VoIP.ms Wiki
Configuration Detail
Start Zoiper IAX SIP VOIP Softphone App.
On the welcome screen fill the Username and Password then click on Create an account.
Username: 100000 (your VoIP.ms main or sub account) @server.voip.ms is optional.
Password: ********* (account password)

On the host screen fill the domain/host with any of our servers. I.E. toronto.voip.ms then click on Next
Skip the Authentication step. AuthUserID and Outbound Proxy are not needed.
In this screen you can select the protocol that your SIP account will use:
Select the one you prefer according to your network's settings, I.E. SIP TCP then click on the Finish button.
Please notice that we do not support SIP TLS.

This the account configuration screen and will show a summary of your account information:

User: 100000 (this is your SIP/IAX Main Username showing up in your customer portal)
Password: ********* (this is your SIP password.)
Host: atlanta.voip.ms (use one of the multiple VoIP.ms servers)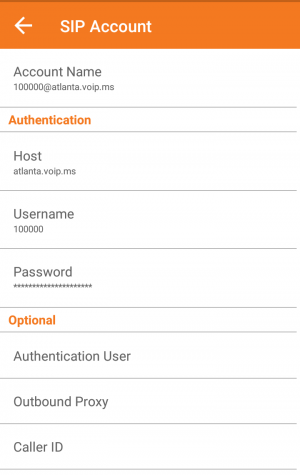 Scroll down to Audio Codec Settings., the ones with a check mark are the codecs selected, leave only as selected codecs, uLaw or GSM. We also offer G.729 however it's a paid feature in Zoiper. Set the rest unchecked.
Click on the <- in the left corner to leave the settings.
Your Zoiper should be ready to make calls
Common Errors
If there was a typo in your password or if there's a DNS issue Zoiper might show the account type options in red. You can select the protocol and hit the Finish button even though they're all red.
On the account settings screen you can check the error response code and correct it. You can check the list of common SIP Response codes for this.
For best results, it is recommended to use wifi. But if using 4G/LTE and you experience poor sound quality, it has been reported that turning off ECHO CANCELLATION helps solve the issue.
Known Issues using Zoiper's PUSH server
If you're experiencing issues with outgoing calls using the new Zoiper's PUSH server. Please follow these steps:
1. At Settings >> Connectivity:
Check/Enable the "Enable PUSH Proxy" option.
Set "Proxy protocols" to SIP+RTP.
Set "Push transport" to TCP (Default).
2. At Settings >> Accounts >> Your account
Set "Authentication user" with your Main or sub account name. (It's the same value you have for "Username")
3. At Settings>> Accounts>> Your account >> Network settings
Set "Transport Type" to TCP