Vimphone
From VoIP.ms Wiki
Vimphone was a free app (GPL) which allows Android users to make inexpensive calls using VoIP.ms (or any SIP-compliant provider) and a wi-fi connection.
While using an Android handset gives the "look and feel" of calling from a cell 'phone, there is no requirement that the phone is subscribed to a mobile telephone provider. Calls placed over wi-fi incur standard VoIP.ms rates, not the far higher cell phone rate.
The application's home website www.vimtura.com/vimphone appears to be defunct; the app does still work but is likely no longer supported by the original authors.

Installation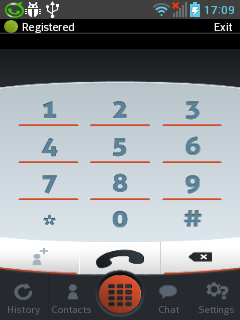 The Vimphone application was a free download at the Google Play store; it remains available from some third-party sources. When installed, it must be configured for your VoIP.ms account before you can make calls.
Press the [menu] key, then Settings -> Account setup assistant -> I already have a SIP account.
The application will prompt for "username, password and domain".
Username: 100000 (your VoIP.ms username)
Password: ******** (account password)
Domain: atlanta.voip.ms (one of our multiple servers)
Press 'Apply', then return to the main screen. A green dot and the word "Registered" should appear at the top of the screen if registration is successful.
At this point, your Vimphone is ready to place calls on the VoIP.ms network.
If you intend to receive calls, you may wish to have Vimphone automatically log into VoIP.ms on startup:
Press the [menu] key, then Settings -> Advanced -> Start at boot time.
Limitations
The Vimphone app does not provide user-configured dial translations (for instance, to add the home area code to seven-digit calls)
Some vertical service codes (such as *75xx to speed-dial preset numbers from voip.ms phone book entries) by default do not pass through to the VoIP.ms server, instead of giving errors locally