Microsip
From VoIP.ms Wiki
Tutorial Video

This is the very basic set up for MicroSIP, there are only 3 steps needed to have your device up and running. If you wish to improve your softphone performance or enable some features, refer to the advanced section.
Basic setup
Step 1 - Download and install MicroSIP from this link. Note we have used the latest version which is currently MicroSIP-Lite-3.19.31
Step 2 - Once downloaded and installed, start MicroSIP and on the welcome screen head onto the arrow pointing down on the top right of the softphone application > Edit Account.
Step 3 - Fill all the following information:
- Account Name: VoIPms
- SIP Server: The server you wish to connect to. Please consult VoIP.ms's server list to see the list of all of our servers
- SIP Proxy: Exact same information that was set in SIP Server
- Username: Your main VoIP.ms account number or sub-account
- Domain: The same information you have filled in SIP Server and SIP Proxy
- Password: your main SIP/IAX password* or sub-account password
- Display Name: Your outbound caller ID Name. (See the requirements below)
IMPORTANT for Display Name:
  - We suggest entering your outbound Caller ID Name must be in capital letters. This will appears more clearly/visible on some devices.
  - You must NOT use any special characters, they will not be displayed. 
  - Enter a max of 15 characters. Some of regular Canadian providers will not show more than 15 characters max. We suggest shrinking or adapt your caller ID. 
  - Spaces are allowed in a caller id name.

Then press saved and you are done configuring MicroSIP.
Additional Settings
TLS SRTP
In order to enable TLS SRTP (call encryption), you will first need to enable this feature by modifying your main account under Main Menu > Account Settings > Advanced tab and setting Encrypted SIP Traffic to Yes
Once done, go into the menu option (arrow pointing down) on the top right of MicroSIP > Edit Account and set the following options:
- Media Encryption: Mandatory SRTP
- Transport: TLS
Save and then head once again on the top right of MicroSIP > Settings and once there, modify Source Port option to 5061 and RTP to 10001 to 20000.
Save these settings and you will now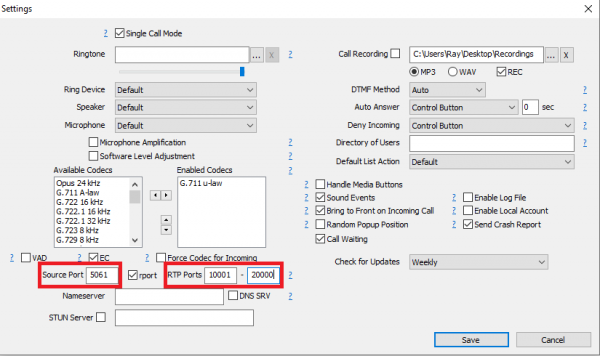 Some additional settings
By heading into the menu option (arrow pointing down) on the top right of MicroSIP > Settings there are some settings that can be improved in order to avoid any issues while on a call:
- Enabled Codecs: Only have G711u allowed (or GSM if you have a slow internet connection)
- Source port: Set it to 5060 (5080 or 42872 for alternate ports) or 5061 (5081 or 42873 for alternate ports) for call encryption
- RTP Ports: Set the minimum to 10001 and maximum to 20000
- EC: Make sure this option is enabled. This is an Echo Cancellation option
Otherwise, there are many other options that you can customize like the ring tone you will hear when someone calls among many other options you can customize or enable that you can have a look into. You can also consult link if you have doubts on the options MicroSIP offers.