CSipSimple
From VoIP.ms Wiki
CSipSimple is a free softphone for Android devices.
Please notice that this softphone has not been updated since November 30, 2014 (CSipSimple), while it can still be working, we cannot offer any guarantee about its compatibility or stability.

Configuration
First Run - Easy Configuration
Once installed CSIP Simple from the playstore, the first view will be the "Easy configuration" Menu, there you can select:
Integrate witn Android (optional but recommended)
Always Available
"I'm allowed to use mobile"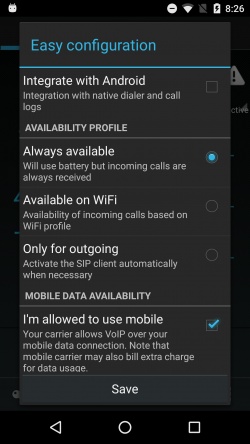 Account creation
After the "Easy configuration" menu, you will see a "View" with an "Add account" button, click it
At "Chose Wizard" select Advanced
Fill in the fields with your SIP account's information (mandatory one is marked in yellow)

Account name: Choose a name for your account.
CallerID: Set the callerID name
Server: montreal5.voip.ms (one of our multiple servers)
Username: 100000 (your VoIP.ms main or sub account)
Password: ********* (account password)

Select "Save" and if all the information was properly set, you will see the account marked on Green, with status "registered".

Issues and solutions
Forbidden 403
When you see this message and your account is marked in red, it is usually because either your Username or password are wrong. Access to your account's section, select it to edit and change/correct the Username and/or password, then save and check again.
Network not allowing incoming/outgoing calls
In some cases, when during "#First Run - Easy Configuration " are not selected the proper options, errors could occur during incoming and/or outgoing calls. If this is the case, you can check at:
Main Dial Path -> Configuration -> Settings -> Network -> Mark all for incoming and outgoing calls.

Audio Issues
Some audio issues are related with network speed, firewalls and usage, other are related with wrong audio codec selected. By default, CSIP Simple have selected codecs that we do not allow, please correct that in your settings:
Main Dial Path -> Configuration -> Settings -> Media -> Codecs -> Leave enabled only PCMU or GSM depending on your SIP account's settings.