Voicemail
From VoIP.ms Wiki
| Article en Français | Artículo en Español |
| --- | --- |
| Français | |

VoIP.ms has an Advanced Voicemail feature that is free to use, and you also have the option to forward your messages to your email address as an attachment.
In order to use the Voicemail feature with VoIP.ms you will have to create a Voicemail entry and then assign your entry to one of your DID or Accounts.
The total allowed voicemail messages on a single mailbox is 100.
Please white list the mail domain names *@voip.ms and *@voipinterface.net.
The Maximum Time for a Voicemail message is 5 minutes.
5 Seconds of Silence will end a Voicemail Recording.
Tutorial Video
Voicemail Accounts
From the Customer Portal refer to DID Numbers -> Voicemail, then you will see the following screen. In there you will be able to see a list of any existing Voicemail accounts, or create a new Voicemail account (Mailbox) by clicking on the "Create New Voicemail Account" Button.

Create a Voicemail mailbox
Pressing the "Create New Voicemail Account" button will display a new window.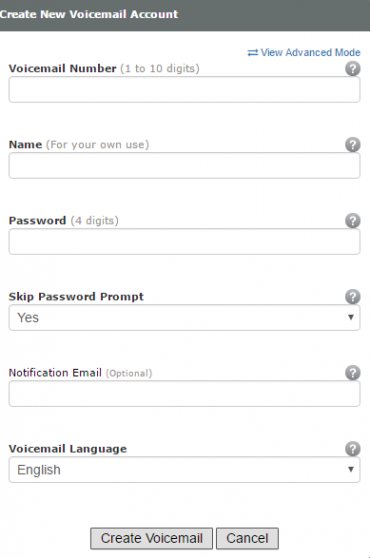 You will be prompted with the following information:
Voicemail Number: This will be used as a unique identifier for your mailbox. The minimum is adding one digit to up to ten digits, for example you can set 1 or 5432897.
NOTE: The number cannot be set to 0. If you have your mailbox to 0 it's suggested to change to a different value to prevent issues with the voicemail service.

Name: This can be used as a note or description to easily identify your mailboxes.
Password: The password is used to enter your mailbox options such as listen to your messages or record your greeting.
Skip Password Prompt: If set to Yes, when dialing *97 from an account associated to this mailbox will skip the password prompt and login directly.
Notification Email: If an email address is entered here, the mailbox system will send an Email notification every time you receive a new message. For the moment you can only set 1 email address. However you can optionally configure an email forward between your email accounts as a work around.
Voicemail Language: This sets the language you and the caller will hear when instructions or menus are played by the voicemail.

Pressing the "View Advanced Mode" button will display further options to modify your mailbox.
Unavailable Message Recording: This is the greeting that the system will play to the callers that reach your voicemail. There are three options available for this recording:
System Default - The system will use the generic greeting message recording when the callers reach the Voicemail.
Set by Phone - The system will use the recording set by the phone by the user via dialing *97 / *98 and choosing option 0 to record it.
Recordings - The system will use the associated Recordings previously uploaded via the Customer Portal tool at DID Numbers > Recordings.
Voicemail Transcription: If enabled, a voicemail to text transcription will be sent to your email. You should select the language that the callers are likely to use when they leave voicemail messages. This feature has a cost of $0.05 per minute of transcribed message.
Attach message to email: If set to YES, the Mailbox will attach a .WAV file containing the new message every time it sends an email notification.
Delete Voicemail Message If set to YES, the Mailbox will delete the new message automatically after sending the Email notification with attachment.
Attachment Format: You can select between WAV49, recommended because of its smaller size and easiness to handle; WAV which is uncompressed, causing a bigger file size; and mp3 which offers great compatibility and is very small.
Say Instructions: If set to YES, the caller will hear instructions on how to leave a message to your mailbox before the beep sound.
Say Time / Date: If set to YES, when checking your messages you will hear the date and time when the message was received.
Time Zone: The time envelope will use this time zone to provide the correct date and time of the message's reception.
Say Caller ID: If set to YES, when checking your messages you will hear the Caller ID of the message sender.
Assigning your Voicemail to your DID
After you have created your Voice Mail entry, you can assign it to any of your DID from your main portal. Please refer to DID Numbers -> Manage DID -> Edit DID -> Voicemail. Also under the same screen you can set the Ring Time (The maximum amount of time a call to your DID can stay in "Ringing State" before we cancel the call to no answer). Please note that 30s equals to 6 rings.
Assigning your Voicemail to your Account
If you would like to assign a Voicemail entry to your Main Account, please from your main portal refer to Main Menu -> Account Settings -> General -> Voicemail Associated to the Main Account.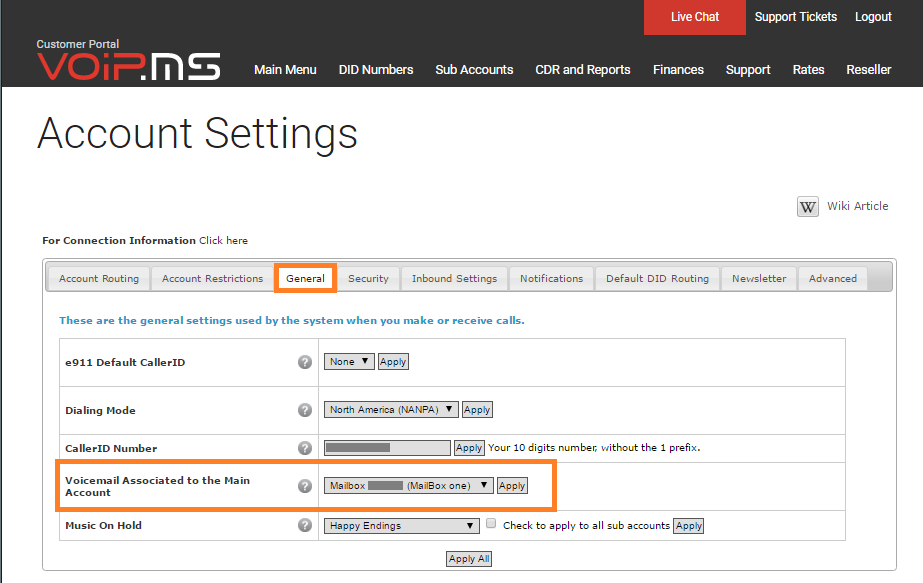 If you need to assign a Voicemail to a specific subaccount, you need to go to the Sub Accounts Edit page, following the route, Subaccounts >> Manage Subaccounts >> Edit, from the menu tabs. You will see at the bottom of the page the "Internal Extension Voicemail" option. Here you can set it.
Manage Voicemail and Messages
Your mailbox will appear under Voicemail Accounts after it is created through your Customer Portal>>DID Numbers>>Voicemail page. In there, you can click the Delete button to delete the mailbox completely or Delete Msgs to delete all of the messages in the given mailbox.
If you click Edit, a new window will be displayed where you will be able to change the settings in your voicemail. However, please note that you cannot change the mailbox ID once it has been created.
You can also manage your voicemail messages by clicking on the List icon next to your mailbox. Within this new window, you will be able to listen to a message, mark it as urgent, forward this message to an email address, download the audio file, mark it as "read", store it in a folder or delete it.
You also have the possibility to select multiple entries and delete them in one click by selecting them on the left row and then pressing *Delete Selected Records*
Manually Transcribing a Voicemail
You can manually request a transcription of the messages left on your Mailbox through the Voicemail interface. Using this feature has a cost of $0.05 per minute of transcribed message.
To begin the transcription process, you need to click on the dialogue box icon next to the message that you wish to be transcribed. The color of this icon represents the message transcription status:
Blue: Ready to transcribe
Yellow: Transcription in progress
Red: Transcription failed, you may retry the transcription
Green: Transcription Successful and Available

The transcription process can take a couple of minutes, depending on the duration of the message. You need to refresh the webpage (By pressing F5 on your keyboard or the refresh button of your browser) to see the updated status of this process.
Once the transcription is finished, the dialogue box icon will turn green and clicking on it will show the transcribed message.
Voicemail greeting customization
If you want to change the default voicemail greeting on your mailbox you will have 2 options.
The First option is to do it directly from your phone, once you have created the mailbox and you have assigned it to your DID number and to your account, dial *97 from your phone and at the Voicemail menu select the option "0" (Voicemail options) and then the option "1" (Unavailable message) there you will be able to record your greeting, and to save it. Any greeting set this way will take precedence over any greeting options, including uploading a Recording or using the System Default greeting.
The Second option is in case that you already have the recording that you want to use as your voicemail greeting. You can upload this recording to DID Numbers > Recordings in the Customer Portal. Your uploaded recording will then appear as a greeting option at DID Numbers > Voicemail > Edit Mailbox > View Advanced Mode (Upper Right) > Unavailable Message Recording.
*Please note that you must change the Unavailable Message Recording option of your Voicemail account to the desired greeting for the changes to be reflected.

*Recording your greeting following the First option, using your phone and the audible Voicemail system, will take precedence over any Recording uploaded or the System Default. 
 If you wish to use an uploaded Recording or the System Default greeting, please delete your recorded greeting first.

Voicemail Access Codes:
You can access your voicemail with any device/system connected directly with your account or subaccount to VoIP.ms using the codes below:
*97 (Asterisk 97) is used to access the mailbox directly associated to the account you are dialing from. If you would like to check which mailbox is associated to your account refer to Assign Voicemail
*98 (Asterisk 98) is used to access your Voicemail and choose one of your mailbox accounts. (Will prompt for mailbox ID and Password)
If for any reason you do not have access to our VoIP network, you can check your Voicemail by just dialing your DID. Once the Voicemail system answers your call, press the asterisk key (*) during the message. You will be prompted for the mailbox ID (or hear the mailbox automatically selected, depending on the server you are using) and enter the Password associated to it, once logged in to your Voicemail, press 0 (zero) for options. You can also record your greeting message from there by selecting option 1 (one). Please be aware this is considered a regular incoming call and will be charged according to your monthly DID plan.
Once you access your voicemail you're going to be prompted with the number of new and/or old messages you have in the mailbox. Here's the list of options you have with the voicemail system of VoIP.ms
1 - Play the first new/old message available in your mailbox.
2 - Change folders. This option allows you to change to another folder in order to hear the messages you have stored in that folder. At the moment it's not possible to change the name of the folders.
0 - New Messages
1 - Old Messages
2 - Work
3 - Family
4 - Friends
# - Cancel

0 - Voicemail options. In here you can change your greetings and record your name, also you can change the password for your voicemail.
1 - Unavailable message
2 - Busy message
3 - Name. 
4 - Temporary message
5 - Change Password
* - Return to the Main Menu

Notes: 
* The Temporary Message will override the Voicemail message option set in the Customer Portal until it is deleted through your phone by dialing *97, 0 for options, 4 for Temporary Message and then 2 to Delete it.
* To Delete a Recording you can just record again, a moment of silence, or create a new recording overwriting the old.
* Please note that if you change the password over the phone (Option 5), it will not change at your customer portal>>Voicemail options,
  and you will have to manually change the password there. If you don't change it at the customer portal and you modify any other value  
  later, when you apply the changes the old password will be set again to your mailbox, since the modify option apply all the values set at 
  the voicemail options.  

The following options are available when you're listening to your messages.
1 - Send a reply. Currently not available.
2 - Message Envelope. Speak the date and time at which the message was received.
* - Return to the Main menu.

4 - Play the previous message.
6 - Play the next message.
7 - Delete the current message, without confirmation.
8 - Forward message to another user. When prompted for an extension, you must enter the full mailbox ID of the intended destination (e.g., 52739100).
1 - Prepend the message with a recording.
2 - Send the message without a prepending message.
* - Return to the Main Menu

Known Voicemail issues or frequent questions
I can no longer listen to my Voicemail on my Android phone.
VoIP.ms uses a compressed WAV format for the voicemail messages (WAV49).
This helps server stability and lessen the bandwidth used by VoIP.ms customers to download the file.
Please download another FREE Audio Player like Remote Wave and this will resolve this issue instantly. 
You will be given a choice of what application to use to listen to the file or you can make it your Default Audio Application.
If this doesn't work for you, you can always go back to uncompressed WAV format, on your Manage Mailbox options.

My Voicemail messages keep stopping at 5 minutes.
The Current Maximum Length, a voicemail message can be, is 5 minutes.

I keep receiving cut off Voicemails from people
While recording a message, the system listens for 5 seconds of silence. If the system detects no sounds for 5 seconds, it will 
stop the VM Recording and send a person to VM options.

How can I delete all Voicemail messages in my mailbox.
You can only delete all messages from your Customer Portal>> DID Numbers>> Voicemail page. Please refer to Manage Voicemail.

I have Voicemail messages but when I login the system tells me I have no Voicemails
It is possible that you have selected the option to Delete Voicemail Message once it has been sent to email.
Please see the Creating a Voicemail mailbox Section to change this option.


I dial *97 but the system still asks for mailbox number
In order for *97 to work you have to make sure the device or softphone you are using is connecting to the servers with a SIP account associated with that mailbox. 
So if you are connecting with your main account or a sub account, please see Assigning Your Voicemail to Your Account. 
If you are connecting with a phone not connected to VoIP.ms service then for security reasons you will have to enter the mailbox number and password. 

Voicemail using the Reseller Interface
The feature is available for your client through the Reseller interface. You must enable this feature in your package in order to give them the ability to leverage this.
Go under the navigation bar on [Reseller] then click on [Manage Rates & Packages]
Click on the Edit button to edit your package, or click on [Create a new package] to create a new one.
Go under the [Reseller System Configuration] Tab, and on the section "Type of configuration" select: [Package Configuration],
Then scroll down and find the feature "Voicemail", and enable it.

1) To add a new voicemail for your client, or to help your client adding one. Go under the [Services] at the left navigation bar, then on [Voicemail]. .
2) Once on the page, click on [Add new Voicemail] tab. You will need to enter a Name, a Mailbox ID, a Password, an "Email if Attach message to email" is set to Yes, your timezone and all other settings needed.
3) Click [Save Voicemail]
Your Voicemail has been created successfully. It will be available to be selected in an IVR, Ring Group, Queue, DID Edit/Routing etc...