Voicemail
From VoIP.ms Wiki
VoIP.ms has an advanced Voicemail feature that is free to use, and you also have the option to forward your messages to your email address as an attachment.
In order to use the Voicemail feature with Voip.ms you will have to create a Voicemail entry and then assign your entry to one of your DIDs or Accounts.
Voicemail Access Codes:
Asterisk (*) 97 is used to access directly the Mailbox associated to the account you are dialing from. If you would like to check which mailbox is associated to your account refer to Assigning your Voicemail to your Account below. (Will prompt for Password only unless this option is disabled)
Asterisk (*) 98 is used to access your Voicemail and choose one of your Mailbox accounts. (Will prompt for Mailbox ID and Password)
If for any reason you do not have access to our VoIP network, you can check your Voicemail by just dialing your DID. Once the Voicemail system answer your call, press the asterisk key (*). When logged in to your Voicemail, press 0 (zero) for options. You can also record your greeting and temporary greeting from there.
Note: The temporary greeting overrides all your standard greetings (unavailable and busy). 

Please note that Voicemail system is not centralized. It is independent and per server. For Example, If your DID is currently on POP Los Angeles and you dial *97 on New York, you will not access the same Mailbox. The same issue can occur if you change the POP (server) of your DID to another server.
If you would like to migrate your Voicemail messages and unavailable messages to another server, please send a request to the VoIP.ms technical support team to support@voip.ms including Voicemail number, Current server and the server you would like to transfer your setting to.
Creating a Voicemail entry:
From the Customer Portal refer to DID Numbers -> Voicemail You will see the following screen.

You will be prompt with the following information:
Name: This can be use as a note or description to easily identified your mail boxes.
Mailbox ID: This will be used as a unique identifier for your mail box. The minimum is adding one digit to up to five digits, for example you can set 1xxxx-1 or 1xxxx-54321.
Password: The password is used to enter your mail box options such as listen your messages or record your greeting.
Skip Password Prompt: If set to Yes, when dialing *97 from an account associated to this mailbox, it will skip the password prompt and login directly.
Email: If set to something, the Mailbox will send an Email notification every time you receive a new message.
Attached message to email: If set to YES, the Mailbox will attached a .WAV file containing the new message every time it sends an Email notification.
Delete Messages after Emailed: If set to YES, the Mailbox will delete the new message automatically after sending the Email notification with attachment.
Say Time Envelope: If set to YES, when checking your messages you will hear the date and time when the message was received.
Time Zone: The time envelope will use this time zone to provide the correct date and time of the messages reception.
Say Caller ID: If set to YES, when checking your messages you will hear the Caller ID of the message sender.
Play Instructions Before Beep: If set to YES, the caller will hear instructions on how to leave a message to your Mailbox before the beep sound.
Voicemail Menu Language: This sets the language you and the caller will hear when instructions or menus are played by the voicemail.
Manage Voicemail
Once you create the voicemail you can change the settings at any time in your Customer Portal>>DID Numbers>>Voicemail page. Basically you can change any setting in the voicemail and also delete the voicemail or even the
Assigning your Voicemail to your DID
After you have created your Voice Mail entry, you can assign it to any of your DIDs from your main portal. Please refer to DID Numbers -> Manage DID -> Edit DID -> Voicemail. Also under the same screen you can set the Dial Time Out (The maximum amount of time a call to your DID can stay in "Ringing State" before we cancel the call to no answer). Please note that 30s equals to 6 rings.
Assigning your Voicemail to your Account
If you would like to assign a Voicemail entry to your Main Account, please from your main portal refer to Main Menu -> Account Settings -> General -> Voicemail Associated to the Main Account.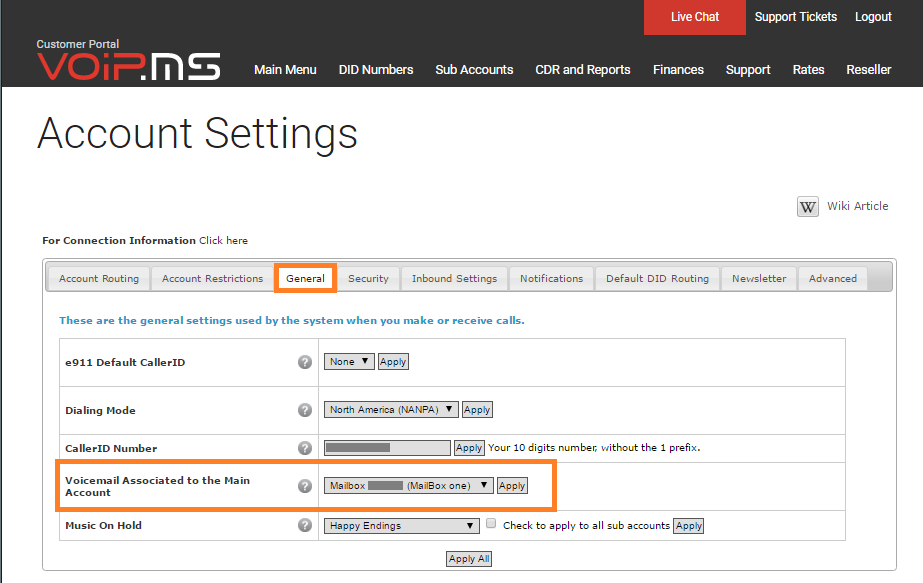 If you need to assign a Voicemail to a specific subaccount, you need to go to the Sub Accounts Edit page, following the route, Subaccounts >> Manage Subaccounts >> Edit, from the menu tabs. You will see at the bottom of the page the "Internal Extension Voicemail" option. Here you can set it.
The current voicemail messages limit on a single Mailbox is 100