PhonerLite
From VoIP.ms Wiki
(Difference between revisions)
| | |
| --- | --- |
| [draft revision] | [draft revision] |
(2 intermediate revisions not shown)
Line 6:
Line 6:

[[File:Phonerlite-wiz1.png]]

[[File:Phonerlite-wiz1.png]]

-

* '''Proxy/Registrar:''' newyork.voip.ms (or any other voip.ms server)

+

* '''Proxy/Registrar:''' .ms

-

* '''Realm/Domain:''' newyork.voip.ms

+

* '''Realm/Domain:'''

* Leave STUN blank

* Leave STUN blank

Line 15:
Line 15:
-

* '''Username:''' 100000 (Your VoIP.ms Account)

+

* '''Username:''' (.)

* '''Authentication Name:''' Same as Username

* '''Authentication Name:''' Same as Username

-

* '''Password:''' ********* (Account Password)

+

* '''Password:'''

Click '''Next'''

Click '''Next'''

Line 44:
Line 44:

Note: Whenever you make changes make sure to click the '''Save''' button to save them to your profile.

Note: Whenever you make changes make sure to click the '''Save''' button to save them to your profile.

+
---
Revision as of 18:33, 20 June 2022
Configuration Details
Start PhonerLite
Select Manual Configuration
Proxy/Registrar: One of VoIP.ms multiple servers, you can choose the one closest to your location
Realm/Domain: Same as Proxy/Registrar
Leave STUN blank
Click Next
Username: You Main account or sub account username (six digit number) E.G 123456 / 123456_XX (the underscore has to be used for sub-accounts)
Authentication Name: Same as Username
Password: The password you set for the account / sub account
Click Next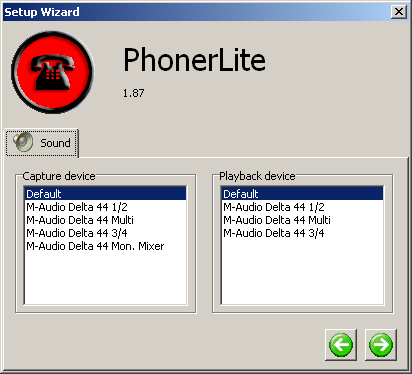 Select your audio capture and playback devices
Click Finish check box to save your profile
PhonerLite is now ready to make calls.

(Optional fine tuning)
Under Server you can change register time to voip.ms recommended 180 seconds.
Under Codecs turn off silence detection.
If you use headset you can set echo cancellation to 0 otherwise leave default. Default codec selection is adequate and will use highest quality g.711. If you have low bandwidth try unchecking g711 so calls default to GSM (make sure GSM is also checked on voip.ms server config). g.729 is not supported in this softphone.
Note: Whenever you make changes make sure to click the Save button to save them to your profile.