Outgoing Calls not Working
From VoIP.ms Wiki
Is your Account in Positive Stand?
By looking into your customer portal home page, you will see your current balance. If it is at $0 or in negative, this will not allow you to receive or make calls. Make sure that your balance is always in positive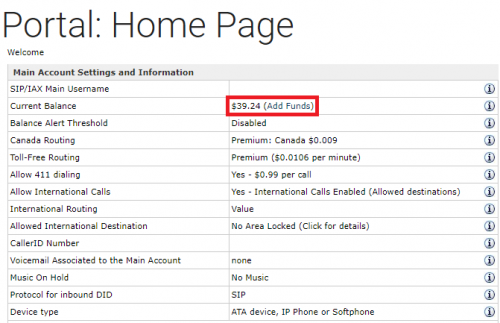 Are you Passing a Valid CallerID?
You can see this by heading into Main Menu, Account Settings, General tab. If you did not configure this yet, it is primordial that you configure your callerID to match one of your DID number or set a valid 10 digit callerID that you have but with another provider (your mobile phone for example).

'''Note''': If you use a PBX server, you will need to send it from your PBX and not from the portal (some exceptions may apply).
Are you Trying to Call an International Destination?
If you are trying to call internationally, make sure to verify the following 3 points:
Is International Calls Enabled?
By heading into Main Menu, Account Settings, Account Restrictions tab, make sure that '''Allow International Calls'' is set to '''Yes'''.
Is the International Destination Allowed?
Still under Main Menu, Account Settings, Restrictions tab you will find at the bottom '''Allow Calls to Countries''' setting which allows you to enable or disable international countries. Make sure that the country you wish to reach is enabled. If it is greyed out, please make sure to contact our technical support.
Additional Point to Verify for International Calls
* Still under Account Restrictions, make sure that the setting ''' International Amount Restriction''' is set above the actual cost of the destination you will reach. You can confirm the rate per minute of your destination under Rates, Check Rates Online.
* If you have the country enabled but trying to reach a number still fails, by checking under Rates, Check Rates Online, type the number and see if a yellow lock appears. This means that there is currently no routes available to the destination you attempt to reach. Although please contact our support at [email protected] or via a ticket so that it can be looked into by our routing team.
Is your Account Blocked by One of our Security Feature?
For your main account, this can easily be seen by heading into Main Menu, Account Settings, Security tab and seeing if any configuration has been done for the option '''IP Restriction''' or '''POP Restriction'''. Same can be verified for your sub account by modifying your sub account.
Issue is Persisting
Please do contact our technical support:
* By creating a ticket,
* Emailing us at [email protected]
* via Live Chat.