Manage DID
From VoIP.ms Wiki
Once you have a DID number, you will have to edit the default settings in order to receive calls the way you need to. To do this you need to access the "Manage DID(s)" option from the "DID Numbers" menu tab.

Following there is a general screen where you will be able to see all the DID numbers in your account. Here you will see different keywords and icons that you may not be familiar with, however you can get a quick description of each one of them by clicking on the "Help" globe at the top right of the page.

Now, in order to access the options to edit your DID, you need to click on the little "Paper and pencil" icon.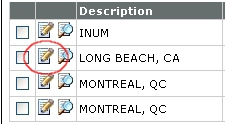 The first section you will see, is the "DID Routing" section, which may or may not have all the options available, this simply depends on which features you have created from your portal, that is, if you have not created a voicemail, you wont be able to select this option.