Manage DID
From VoIP.ms Wiki
(Difference between revisions)
| | |
| --- | --- |
| [draft revision] | [draft revision] |
Line 24:
Line 24:

[[File:DID-Routing.jpg]]

[[File:DID-Routing.jpg]]

+
+
+
+
+
+
+
+
+
---
Revision as of 18:48, 5 July 2011
Once you have a DID number, you will have to edit the default settings in order to receive calls the way you need to. To do this you need to access the "Manage DID(s)" option from the "DID Numbers" menu tab.

Following there is a general screen where you will be able to see all the DID numbers in your account. Here you will see different keywords and icons that you may not be familiar with, however you can get a quick description of each one of them by clicking on the "Help" globe at the top right of the page.

Now, in order to access the options to edit your DID, you need to click on the little "Paper and pencil" icon.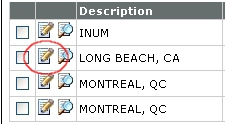 The first and Main section you will see, is the "DID Routing" section, which may or may not have all the options available, this simply depends on which features you have already enabled from your portal, that is, if you have not created a voicemail, you wont be able to select this option.
This is basically the route the call will take, when someone calls to the DID. Whatever you select here, is the route the call will follow and will apply for all the calls.
In order to select an option, you need to click on the radio button, and then select the desired choice from the drop list (in case you have more than one option for that routing).

Next, we see the additional and mostly optional settings for the DID.
The first option is "Additional Failover options". If you click to display, you will see 3 more DID routing sections, just like the Main, except these are meant to be used for each one of the 3 call states, Unreachable, Busy and No answer.
This allows you to set a customized routing when the call reaches 1 of the 3 Call states, instead of just going to the Voicemail.
After, we have the Voicemail setting, here is where you need to assign a voicemail to your DID.
DID point of presence, this setting is the server where you will locate your DID, in order to route the calls, this setting must match the same server or proxy you are using on your ATA device, PBX trunk or softphone in order to receive calls.
The Dial Time Out in seconds, is basically the time the call will ring before it reaches one of the Failover states or voicemail.