Linphone
From VoIP.ms Wiki
Configuration Detail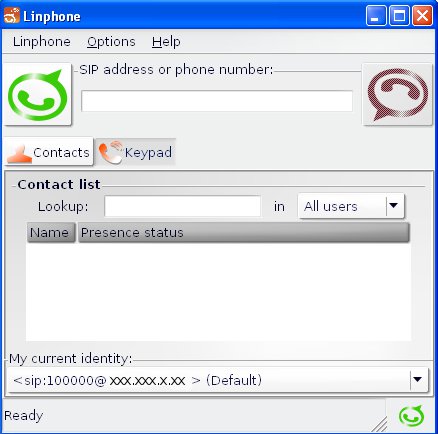 Click on the Linphone menu and select Preferences
On the Settings page change to the Manage SIP Accounts tab.
Under the Proxy accounts section, click on the Add button
Fill in the information according to your account

Your SIP identity: sip:100000@atlanta.voip.ms
SIP Proxy Address: sip:atlanta.voip.ms
Note: atlanta.voip.ms can be replace for any of the servers available with voip.ms.

Click on the OK button
You will be prompted for Authentication
UserID: 100000 (your VoIP.ms username)
Password: (account password)
Your Linphone should be ready to make calls
To confirm that you have registered this softphone properly, you can make a call to the Echo test application (dial 4443).
Ring time option on the Linphone softphone
The Linphone softphone has it's own ring time option and in some cases it's possible that you have to edit the value on that option if you experience issues reaching your voicemail on the ring time range that you have set in the DID settings on the voip.ms customer portal.
In order to do this, please note that the versions for Ubuntu, Windows and possibly other platforms don't have an option to change this setting at the GUI config interface and to increase or decrease the number of seconds that Linphone will ring before going to voicemail (if you want to use the voicemail option at your voip.ms customer portal) you will have to edit the ~/.linphonerc configuration file.
In order to configure this file, please note that you must stop and close the Linphone softphone, otherwise during shutdown, Linphone will overwrite the changes made to the file.
Once you access to ~/.linphonerc look for the inc_timeout= setting and adjust it to the number of seconds you want.
Please note that even if you configure the ring time in seconds within your voip.ms interface (on the DID settings page) the option on the Linphone will override this setting if inc_timeout=nn is less than the voip.ms DID settings.
You can also use the Show debug window under the Help menu on the Linphone to see some details of what is happening in the background while you run your softphone.